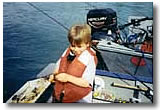 Alaska Fishing and Lodging welcomes you to the most beautiful place on earth, the Kenai Peninsula of Alaska. Whether you're yearnings stem around doing battle against our powerful King Salmon or the aerobatic and aggressive Silver Salmon of the Kenai or Kasilof rivers, you will enjoy fun filled days fishing with us in our 20' Willie Power & Drift Boats.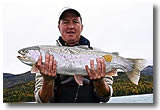 Or maybe you're suffering from that burning desire to target the trophy sized native Rainbow Trout this river is so renowned for through the fly fishing communities, and publications world wide. Unlike other areas in trout fishing today, the buzz surrounding the trophy rainbow trout fishing in the Kenai River has been very positive. These fish are thriving thanks to the rigorous efforts of conservation put forth by the Alaska Fish & Game, Kenai Professional Guides Associations and local sportfishing groups and citizens. Each year the trout fishing just seems to be getting better then the previous year and amazing us with the sheer numbers of fish and the absolutely remarkable size these fish are growing to.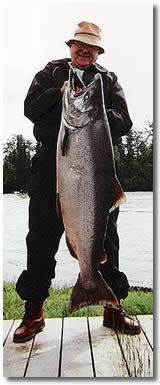 As good as the salmon and trout fishing sounds, the fishing doesn't end here! Also available in the area is some of the best halibut fishing where the massive barn door Halibut of Cook Inlet shred 100 lbs test braided Dacron like it's a cheap monofilament. Fish over 300 pounds are boated every year in these protected waters with the local record halibut weighing in at a massive 426 pounds. Are you going to be the one to break that record? See Alaska Halibut Fishing Packages for more about this great adventure.
The Kenai Peninsula is the current favorite destination among fishing experts as the place to take home the memories that dreams are made of. This region of Alaska offers you the fantastic sportfishing for salmon and trout that has made the Kenai and Kasilof Rivers, as well as saltwater fishing for halibut, a headline destination on just about every fishing and vacationing magazine that has ever been sold. And our unique location is ideally suited for a family fishing vacation as well and offers the serious trophy seeker a realistic chance at that "once in a lifetime" fish at the same time.
All of the action will be caught on video for you to share with friends and family. Our goal is to make your fishing vacation a memorable one and we will do everything we can to accommodate you. We offer fishing packages that include Scenic Lodging where you can spend your evenings relaxing and looking over one of Alaska's Pike filled lakes. What are you waiting for? Give us a call.